A Visionary, Multi-Generational Riverfront Experience
Of all the great, unrealized efforts that lie before Quincy, Illinois, the development of its waterfront is arguably the most potentially catalytic and transformative. Revitalizing the riverfront is the next major opportunity to elevate the status of the city's most visible and valuable anchor.
The Riverfront Master Plan conveys a comprehensive approach for the redevelopment of prime real estate within four blocks of the Mississippi River in Quincy, Illinois. Reimagined as a dynamic community gathering place and welcoming gateway, the proposed riverfront incorporates new attractions and refreshes existing infrastructure to infuse life into one of Quincy and Adams County's most valuable assets.
The design team poured over findings and feedback from the analysis and programming phases to create a new vision for the riverfront. This next-generation plan represents the culmination of over 12 months of study, planning, and engagement. The plan represents a framework for riverfront redevelopment that represents the community's vision while allowing for flexibility over the course of its phased implementation.
The end result is a visionary, multi-generational riverfront experience that truly has something for everyone.
Engagement
Capturing Quincy's vibrant culture in design begins with the community. To present ideas and solicit feedback from residents and users, the planning process included virtual public open houses and workshops supported by online surveys and questionnaires.
Analysis
Creating value in public spaces requires focusing on environmental responsibility, sustainability, social justice, and economic improvement. Consideration was taken in how the riverfront will look and function decades from now.
Design
Every design decision and alteration made to the riverfront has a compounding effect on the community. Our design philosophy centered on understanding larger design influences and presenting opportunities for positive change with regional outcomes.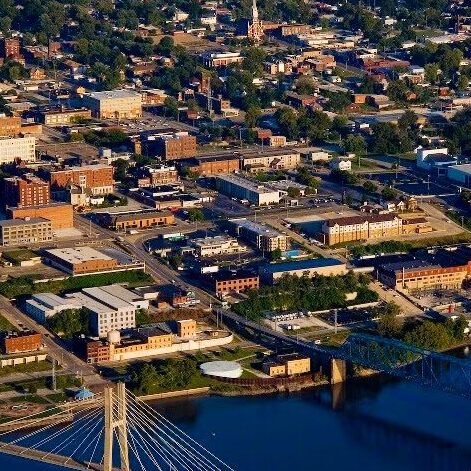 An extraordinary Mississippi riverfront can become an even more powerful economic, cultural, and recreational magnet for both residents and visitors.
View project documents including past studies, meeting recordings, survey results, and more from throughout the 12-month planning process.
The public's involvement is critical to the success of any community project. We are grateful to all the community members who attended virtual meetings, shared their ideas and feedback, made recommendations, and were engaged in the planning process.
Get involved with implementation.